New: JULIUS
Elastic Theatre presents its first multi-screen film, in collaboration with film production company Savage Mills: a coming of age story of intrusive thoughts and compulsive rituals.
Following its critically acclaimed season at GV Art Gallery in London's West End, the full version of JULIUS premiered at Spitalfields Music Festival (JUNE 2013) before an international tour. 
Julius: ACT I Split-screen Excerpt
"A mesmerising experience" Trebuchet Magazine
"Poetic… carefully researched" New Scientist
"Intensely enjoyable and thought-provoking" Urban Times
Julius: Pop-up Performance Trailer
When an adolescent in a rural town learns from his flamboyant teacher about Julius Caesar's many lovers, he begins to experience intrusive thoughts about himself as a Roman Emperor, in very bizarre situations… Written and conceived by Jacek Ludwig Scarso who curates the overall artistic direction of the project, JULIUS is an Elastic Theatre production in collaboration with Savage Mills, set to a new score by Ivan Hussey of Celloman, with designs by Nadia Malik. Film direction by Jacek Ludwig scarso and Savage Mills; filming, editing and VFX by Savage Mills.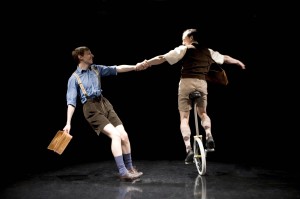 JULIUS consists of an multi-screen film, exploring the nature of obsessional thoughts and the superstitious beliefs associated to them. The script is being researched with the help of UK's leading experts in the field of OCD (Obsessive Compulsive Disorder) and in collaboration with GV Art, Bethlem Museum, The Facility (LMU) and OCD Action.
Julius: Initial Ideas: a video documenting the start of our creative process leading to our touring multi-screen film
Supported by the Wellcome Trust and by the Jerwood Charitable Foundation, the cast includes dancer Adam Kirkham, actress Chiara D'Anna, circus artist Joachim Ciocca, soprano Maya Sapone and baritone Nicolas Simeha.
The making of Julius was launched at the Pave D'Orsay in Paris, as part of BAW's New Voices New Projects, on Friday 10th February 2012. The first version of our multimedia installation was screened continuously over 5 weeks at GV Art Gallery in London's West End, accompanied by a series of related events , worksgops and pop-up performances. View our GV Art – JULIUS – Exhibition Catalogue. Exhibition supported by GV Art.
Take part  in the next chapter of JULIUS!
Jacek Ludwig Scarso talks about JULIUS on Hayes 91.8 FM and on NewsTalk Radio Ireland.